Wagers and playoffs and mock drafts… OH MY!
Apologies for those of you who were expecting blog #2 to follow a week after blog #1. If you're a regular listener of the show, you'll realise that's just not how Pmac and I operate. We work on our on schedule in our own time zone. I can't speak for Pmac, but my middle name (legally) is 'Sporadic'.
So, to apologise, I thought I'd supply some light-entertainment in the form of the long-awaited "Rusty in a soon-to-be-vomited-on Knicks hoodie" pictures. Now, before I present to you the pictures (don't scroll down, you'll spoil the fun), I feel it important to explain five things. The first - THE ONLY REASON I'm wearing a Knicks hoodie, is because I lost a bet to Pmac and NYB. The second - the hoodie is Pmac's. He sent it to me via the ever-reliable 'Australia Post'. The third - I very nearly vomited on it, thanks to the three-day bachelor party I had attended in the three days prior to the photos being taken. The fourth - I was so ashamed that I was actually being forced to wear a Knicks hoodie, I found it physically difficult to face the camera (hence the first photo). And, the fifth thing I feel needs explaining - the bird being flipped in photo #2. It isn't aimed at you dear readers, but at Pmac and NYB.
Ok, so without further adieu…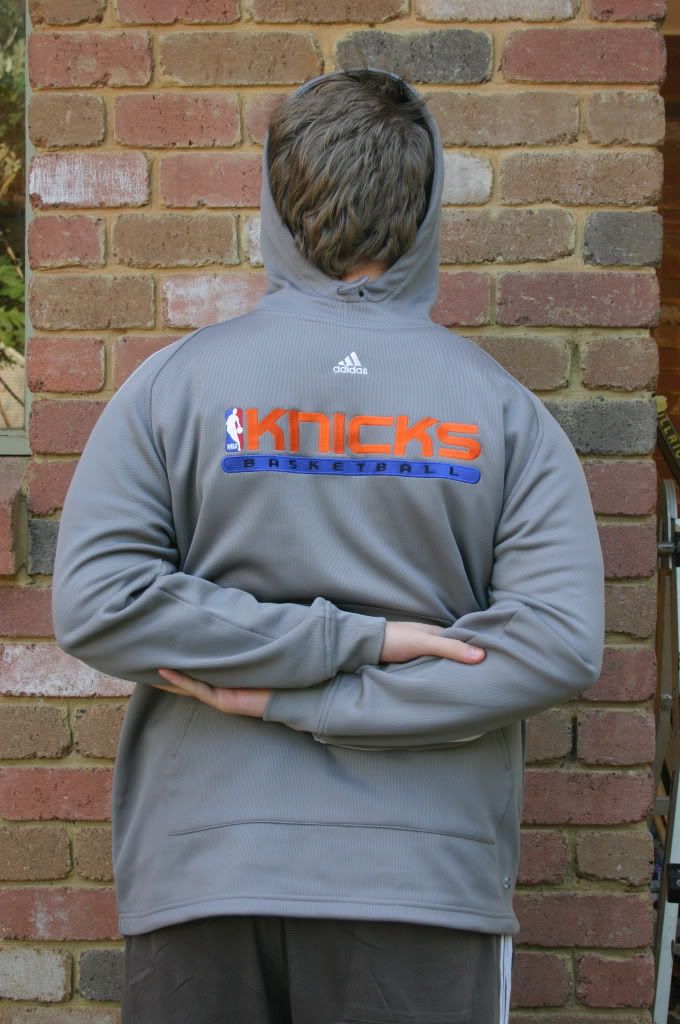 Ok, so with that out of the way, on to more important matters…
The Nets have assured Lawrence Frank that he'll be back with the team next season. Like I said in my previous blog entry, I didn't see the point in buying him out, just for the sake of doing so. I basically didn't see any real pressing need to replace Coach Frank and neither did Rod Thorn. So, season 2009/10 will be the last in the current contract of not only Coach Frank, but also Rocket Rod himself. At this stage, from what Rod, Kiki, and Lawrence have said; the only players who are almost certainties of coming to training camp are Devin, Brook, and Vince. The rest should have at least one bag packed just in case, over the course of the off-season.
There hasn't been any word yet on the naming of the NBA's Most Improved Player award - which is strange because every other individual award winner has been named and last season's MIP winner was named in late April. All of this is telling me that the voters for the award this time around are having a hell of a time separating Devin and Danny Granger (the two most obvious candidates).
Draft time (the favorite time of the NBA year for any fan of a non-playoff team) is rapidly approaching. The Nets - who may only have a one in 25 chance of landing a top three pick - still remain optimistic. They landed a top three player with the #10 selection last season, and are obviously hoping history repeats itself this time around. Mike DeStefano of NBADraft.net tried his hand at a re-draft of last year's crop of rookies, and not surprisingly to us, Brook's name came up at #3 - seven spots higher than his actual selection. From what I've been reading and hearing so far, the Nets seem to be very high on the prospects of Earl Clark, Ty Lawson, James Johnson and Stephen Curry.
Just before I wrap this up, just a few quick thoughts on the current playoff picture: The Cavs don't look like losing a game until the Conference Finals at the very earliest; the Rockets are giving the Lakers some serious headaches (though I wonder how long that'll last with Yao going down with YET ANOTHER serious leg injury); Big Baby Davis could be the fattest player to ever sink a playoff game winning shot; and the Nuggets look like they actually belong on the big stage.
Ok, so that just about brings an end to TCO's sophomore blog. Be sure to check back here often, just in case blog #3 has made an early appearance. You just never know when Pmac or I will get an attack of the blogs! (I actually had an attack of the blogs the other day after consuming the worst Souvlaki ever concocted following countless liters of alcomahol, but that's a story for another day).
Peace!
Tags: Brook Lopez, Devin Harris, Knicks, NBA basketball, NBA Draft, NBA playoffs, Nets, Vince Carter